excellence in art winners
Paterson Burn Optometrists is proud to announce the winners for the 2017 Excellence in Art competition.
First Place

Second Place

Third Place

Ella Rose Uren-Louisson

Hamilton Christian School

Amy Barnes

Sacred Heart Girls College

Cassia Ten Hove

Hamilton Christian School
Congratulations to our winners, who walked away with cash prizes for themselves and their schools. Click here to see who won our other awards "People's Choice" and "Commendations".
funds raised for waikato diabetes
This years competition saw an amazing 68 art entries, participation from 18 schools from the Waikato, Coromandel and Auckland and 130 guests who attended the awards night at Creative Waikato on the evening of Thursday 4th of May.
The theme "The world through the eyes of another - past, present, future" was depicted in various creative ways by the student artists who also helped raised funds for Waikato Diabetes. Through the online bidding and the live auction at the awards night, a total of $2465 was raised, 80% goes back to the students and 20% goes to Waikato Diabetes.
$493 was donated to Waikato Diabetes as a result of the students efforts in the 2017 Paterson Burn Optometrists Excellence in Art Competition.
ARTWORK ON DISPLAY
Artwork is still on display at Creative Waikato until Friday 5th May. However if you've missed out, you can visit any local Paterson Burn Optometrists practice from Monday 8th to Friday 12th May where the artwork will be on display before its shipped off to its new homes.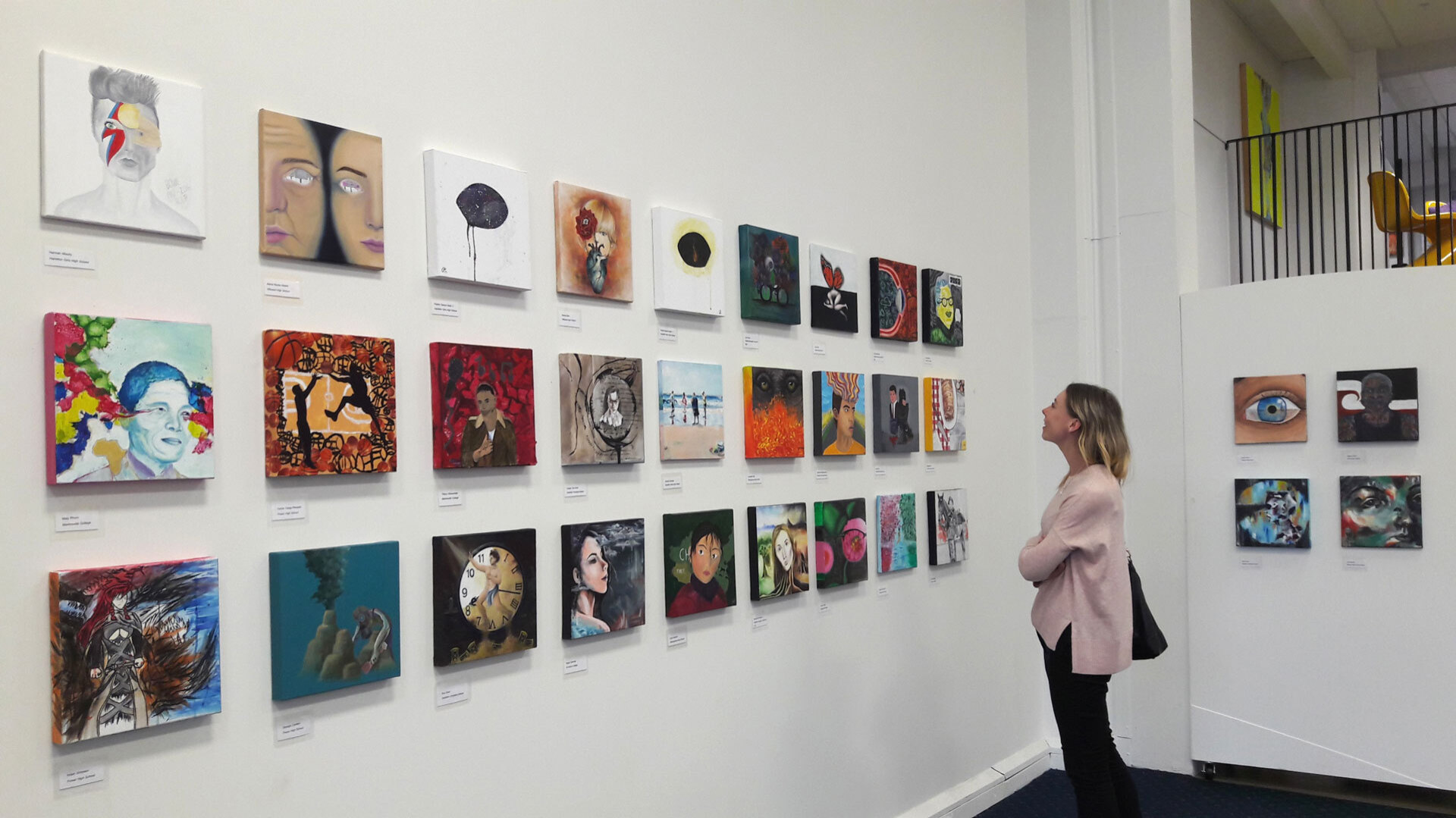 vote people's choice award on facebook
Thank you for voting for your favourite piece of art on Facebook. The winning artwork with the most Facebook Likes won its student artist the People's Choice Award! Click to view the entries on our Facebook page.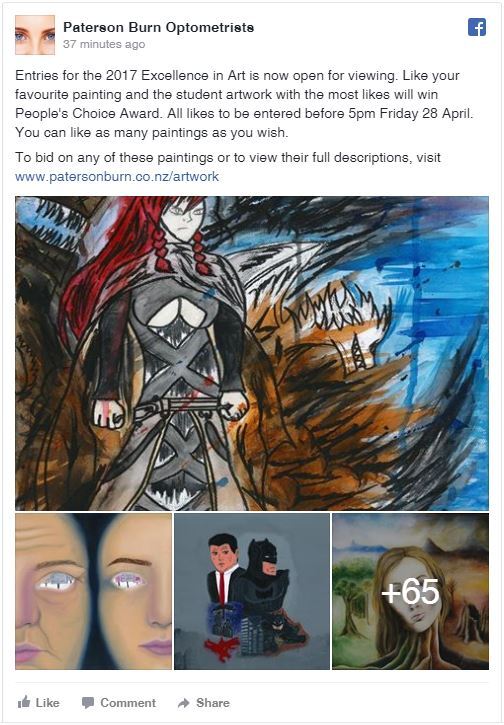 OUR JUDGES
We are proud to announce our judges for this year's competition have local and international art exposure and are advocates for growing kiwi talent in the local arts.
Nancy Caiger
Originally from Singapore, Nancy Caiger has resided in Hamilton for the last 24 years and began painting shortly after arriving in New Zealand. Nancy is also Chair of MESH Sculpture Hamilton and was pivotal in bringing celebrated New Zealand artist Michael Parekowhai's "Tongue of the Dog" sculpture to Hamilton. Throughout the years, Nancy has been involved with various art community projects and groups to help develop local art and community participation. She is a strong advocate for the arts and is both a collector and artist, with her works in public and private collections across France, Mexico, New Zealand, Australia, UK, USA, Canada, Singapore and Hong Kong.
Steph Chalmers
Steph Chalmers is the Art Collection Curator at the University of Waikato, where she manages the University art collection and the exhibition programme for the Calder & Lawson Gallery at the Gallagher Academy of Performing Arts. Steph has worked as an arts educator at the Natural History Museum in London as well as studied Fine Arts under renowned printmaker Marilynn Webb. She has been involved in more than 170 exhibition projects over the last decade and is committed to using her experience to help support and promote emerging artists in New Zealand.
Yaniv Janson
Raglan based, Yaniv Janson is a 25 year old artist with international and local recognition for his work. Yaniv was the youngest artist invited into the New Zealand Academy of Fine Arts after being selected as a finalist for the National Contemporary Art Awards and the James Wallace Trust Art Award. Yaniv has entered the National Youth Art Awards and in 2015 won the Best Abstract prize and an exhibited finalist in 2016. He is also the first Kiwi to be invited by the Paris-based Eg'Art – an organisation that implements the UN Conventions on Human Rights on Disability. This October, Yaniv, who lives with autism and epilepsy, will be exhibiting his new series of artwork titled "Please Do Touch" at UNESCO. Photo by Tracie Heasman, courtesy of Uno Magazine.
2016 Winners
See who won the coveted titles of our top three prizes for the 2016 Excellence in Art Competition. Read more...