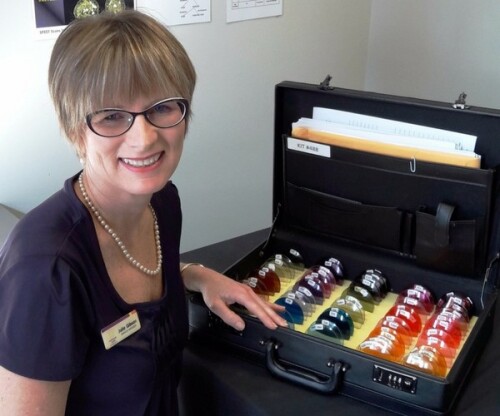 A Waikato woman and her daughter endured pain with a brain condition for years until a diagnosis and specialised pair of coloured lenses transformed their lives.
Joanne Ingle and her 15-year-old daughter Kerrin Ingle-Cox suffered from headaches, migraines and had trouble focusing before being diagnosed with a severe case of Irlen Syndrome this year.
Irlen Syndrome causes the brain – not the eyes – to have difficulty processing certain wavelengths of light, resulting in not being able to process visual information and struggle to focus, read and write.
Symptoms vary from person to person, which is also the case for the mother and daughter duo. It had a significant effect on Ingle's life, she would become exhausted, get migraines and sore eyes when driving in the bright setting sun on her way home from work and it affected her daughter's ability to concentrate at school.
Those with Irlen Syndrome often see black and white print as unclear, fuzzy or words appear to move on the page. For some, it is the brightness of the white on the page and therefore they can't focus on the actual print.
"I had been noticing that I don't see white as white anymore. I see a white page with black print on it and there is grey area there too, almost like a grey smoke over the page, but around each letter it is so white as if a light is shining out," Ingle said.
She said she didn't realise how bad it was, until she went and got it checked. But all of that has changed since they both received the diagnosis and new coloured lenses.
The positive impact means they don't suffer from headaches or migraines anymore and driving isn't exhausting for Ingle now. At work, she used to struggle to focus in meetings with fluorescent lights above her, but with the lenses she doesn't feel drained by reading in the light anymore. She says it's like she's been given more energy now.
"It has been a blessing finding out what was actually wrong and that there was something I could do about it," Ingle said.
This week is Irlen Syndrome Awareness week from October 16 to 20 and each year more than 2,500 people in New Zealand are assessed for the brain condition.
Paterson Burn Optometrists is raising awareness about this condition to help those suffering, recognise the signs and seek help.
Julie Gibson, Practice Manager and Dispensing Optician at Paterson Burn in Te Awamutu says that it can be diagnosed in a two-part process. First, you must go to one of the 399 trained Irlen screeners located throughout New Zealand, where you will be asked to perform a few tasks and answer questions.
If the results suggest that you have Irlen Syndrome, you will be sent to an Irlen diagnostician for the second appointment where they will diagnose the exact tint colour or combination of colours that your pair of glasses requires. There are currently 17 Irlen diagnosticians in New Zealand.
The coloured lenses block out certain light frequencies that are causing the problem and it basically resets the timing in the brain, enabling you to focus more clearly.
She says hearing how much of a positive impact the lenses have had for her clients is rewarding. But says it's a "shame" they don't get to her sooner after hearing how long they've been suffering for and children being told that they are not trying hard enough at school. When if they had known about this earlier they could have seen a specialist and got the problem sorted.
"Irlen Syndrome has been around for years but still very little people know about it and it is only really by word of mouth that people find out about it," Gibson said.
"Sometimes it takes years of suffering before somebody will mention Irlen Syndrome to them and then suddenly everything makes sense and falls in to place".