Examination Fees
Our comprehensive full eye examination includes eye health examination, a digital retinal photo, eye coordination assessment, refraction to assess an optical prescription, and a full explanation of the status of your eyes.
Eye Examination

$ 99.00

Children (under 11)
Students

$ 69.00 - $ 118.00
$ 79.00

Drivers' License screening

$ 37.00

Emergency Eye Health

$ 50.00

Broken Appointment Fee

We require 48 hours notice to cancel or change an appointment. Failure to do so may result in being charged the same fee as per the booked appointment.

$ TBA
Sometimes other examinations and tests are required to further assess conditions that have become apparent during the comprehensive eye examination. These will incur extra fees. Some of these include:
| | |
| --- | --- |
| Visual field assessment | $ 67.00 |
| OCT Macula scan | $ 65.00 |
| OCT Glaucoma Scan | $ 65.00 |
| Corneal topography | $ 37.00 |
| New Contact Lens Fitting | $249.00 |
Does your child qualify for a free eye exam under the Enable Subsidy?
If you or your child has a community services, or high health user card, ask us about the Enable Subsidy. The subsidy provides a free eye examination for children (15 years and under), and may also contribute toward new glasses. Each eligible child has up to $287.50 available per year
Laybuy
Laybuy is now available at Paterson Burn Optometrists.
Offering easy 6 automatic weekly interest free payments, you can now use Laybuy for your eye care needs.

To sign up, simply visit Laybuy or let a member of our team know you wish to pay by Laybuy during your appointment.
Q Card Finance
We are pleased to offer our patients a convenient way to pay for their eye care needs.
With 12 months no payments and no interest* on purchases $200 and over, you can get the treatment you want, when you want it.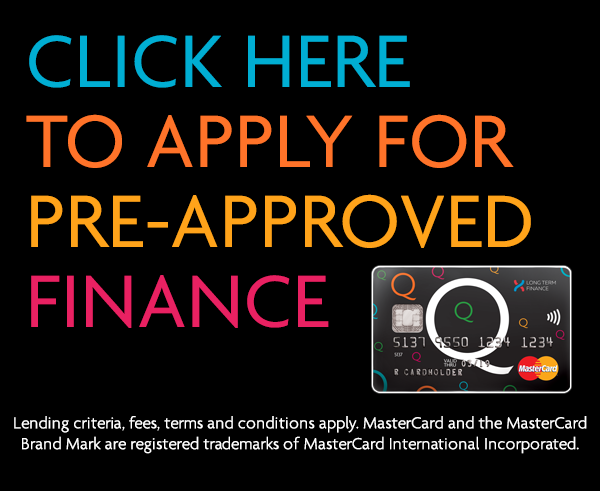 *12 months no payments and no interest ("Payment Holiday") is available on Q Card Flexi Payment Plans. Minimum spend $200. Account Fees may apply. Q Card Standard Interest Rates will apply to any outstanding balance at end of Payment Holiday. Q Card lending criteria, fees, terms and conditions apply.
Alternative Payment Options
We also accept:
Eftpos
Visa
Mastercard
Farmers Card
SuperGold Card
We are a SuperGold Card business partner and provide a 12.5% discount on all frame purchases. This discount is not available with any other offer or promotion. Please show your SuperGold Card when you are finalising your purchase.
Discounts & Packages
We have a number of discounts and packages available to ensure that we make eye care and eyewear solutions accessible to everyone. We are happy to pass on discounts and offer payment terms where possible.
Visit our Special Offers and Promotions page to view some of the deals currently available.
Work and Income Quotes
We are a preferred supplier of the local Work and Income branches. If you are currently receiving a benefit we can supply with you with a new pair of glasses at the work and income discounted rate. As a preferred supplier we accept work and income payment cards, this means less paperwork and a more convenient process for you.
Lost or broken your glasses?
No need to worry! Let us handle your insurance claim.....
All you need to do is provide us with your claim number and we will liaise with the insurance company on your behalf. We can offer advice on selecting an equivalent replacement so that when your new glasses are ready to collect all you need to do is settle the insurance excess. To have us co-ordinate your claim simply give your local practice a call.
Southern Cross Easy Claim
Southern Cross Easy-claim is a convenient way for Southern Cross members to claim for eligible healthcare services at the time of purchase. Let our team know if you are an eligible member and we will request reimbursement on your behalf, this means you will only need to pay your contribution on the day – easy!