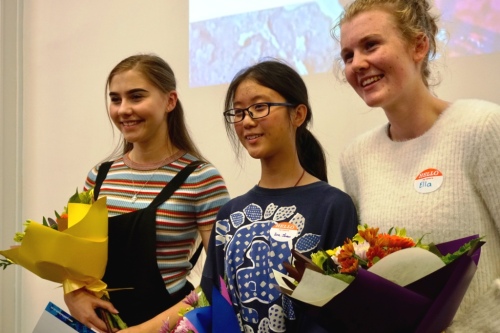 Hamilton students have taken out the top three awards in an art competition for high schools in Waikato, Coromandel and Auckland.
Eva Shen from Hamilton Christian School was awarded first place in the Paterson Burn Optometrists' 2018 Excellence in Art Competition at the awards ceremony on Thursday, May 3 at Creative Waikato.
Hillcrest High School student Ella Silvester took out second place and Hamilton Girls High School student Savannah Mattyasovszky was awarded third place.
The public were invited to vote for the People's Choice Award on Paterson Burn's Facebook page the winner that received the most votes was Alinal Khanal of Morrinsville College with 423 likes on his artwork.
This year's competition theme was 'The art of deception – do my eyes deceive me'. The student artists were free to use their own interpretation of the theme, drawing from personal, local or international events as inspiration.
A total of 62 entries were received for the competition from year 12 and 13 art students at 16 schools across the Waikato, Coromandel and Auckland.
This year's judges are three highly respected Waikato art personalities, Craig McClure, Jennie De Groot and Carole Shepheard.
From the judges' results, the first prize is $1000 ($500 to the student and $500 to the school), second prize is $600 ($300 to the student and $300 to the school) and the third prize is $400 ($200 to the student and $200 to the school).
"Visitors to the gallery are consistently amazed at the age of the artists, they can't believe they're only teenagers because the quality is so good," judge Craig McClure said.
"It's great to support Paterson Burn's exhibition, it's one of our highlights in the community gallery, as it does so well to connect with so many young inspiring artists and also brings schools together."
Ten other entries received commendation awards including Dar'ya Starykoua (Hauraki Plains College), Alina Khanal (Morrinsville College), Lloyd Manozca (Fraser High School), Gunn Kim (Hamilton Boys High School), Amy Barnes (Sacred Heart Girls College), Shona Shin (Hillcrest High School) and four students from Hamilton Christian School - Olivia Barry, Wayne Speedy and Kimberley Grey, as well as Ella Rose Uren-Louisson who was the 2017 winner of the art competition.
All entries were displayed in a compelling exhibition at Creative Waikato where the public bid on artwork, as well as vote for their favourite on Facebook.
The artworks were on display at Paterson Burn Optometrists' practices from March 28 to April 4, before being displayed in an exhibition at Creative Waikato from April 12 until May 3.
The public could bid on artwork online with 80 per cent of the sale going to the student and 20 per cent donated to Diabetes NZ Waikato.
A total of $1854 was raised, of which $370.80 was raised for Diabetes Waikato.
"The calibre of work these young artists have created is incredible and we are delighted to see so much interest with the amount of entries this year," Paterson Burn Optometrists' director Adrian Paterson said.
"The artwork is outstanding, and we're pleased we can also support Diabetes Waikato as part of this creative forum."