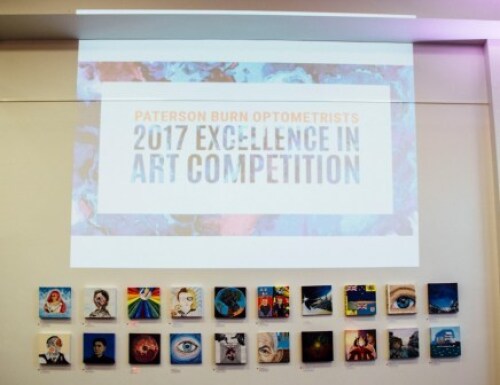 Hamilton school students scoop top prizes at the 2017 Paterson Burn Optometrists' 2017 Excellence in Art Competition. The award ceremony which was help at Creative Waikato on the evening of 4th of May saw students from Hamilton Christian High School and Sacred Heart Girls College walk off with the top three prizes.
First Place

Second Place

Third Place

Ella Rose Uren-Louisson

Hamilton Christian School

Amy Barnes

Sacred Heart Girls College

Cassia Ten Hove

Hamilton Christian School
Ella Rose Uren-Louisson from Hamilton Christian School won first place drawing strength and courage from her painting which was inspired by her aunty who was undergoing treatment for cancer.
Amy Barnes from Sacred Heart Girls College won second place with her painting of "Mother Earth" where issues such as climate change, deforestation ad pollution affect our present and future.
Cassia Ten Hove from Hamilton Christian School placed third with her artwork, inspired by Australian 21 year old poet, Erin Hanson and how an essence of herself appears in her own poems.
L-R: Amy Barnes, Judge Yaniv Janson, Casia Ten Hove, Judge Steph Chalmers, Judge Nancy Caiger, Ella Rose Uren-Louisson.
Alana Muntz-Walsh from Hillcrest High School won People's choice award and we also had ten commendation winners from various schools. To view the People's choice award and Commendation Winners winning artwork, click here.
The competition, in its 5th year, drew in a total of 68 entries from 18 participating schools across the Waikato, Auckland and the Coromandel. The awards evening was hosted by Creative Waikato and all funds raised, 80% were provided back to the students and 20% donated to Waikato Diabetes.
To read more: