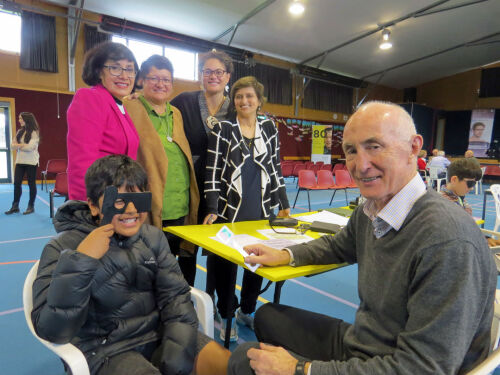 Essilor Vision Foundation, a global not-for-profit organisation, approached 2016 with a goal of screening 3000 students from low-decile schools across New Zealand. Paterson Burn Optometrists were proud to assist with this effort, helping to screen over 800 students from Taupo, Tokoroa and Gisborne.
Around 30 per cent of students screened through the programme have been found to have an undiagnosed eye condition or vision problem which may be detrimental to their learning and behaviour in school.
Adrian Paterson, founding partner of Paterson Burn Optometrists and Chairman of the Essilor Vision Foundation, acknowledges the value of screening school students, explaining, "Although most children have a basic eye-sight test when they start school, their eyes don't mature until around the age of nine. At that stage our equipment can identify previously undiagnosed vision conditions."
Any students who fail the preliminary vision screening receive a complimentary comprehensive eye examination and glasses if required. The discovery of previously undiagnosed vision problems can have a dramatic effect on the behaviour and achievements of students; with student performance noticeably increasing once a vision condition has been corrected.
Essilor rely on support from local independent optometrists, including Paterson Burn, to volunteer their time in order to carry out this important programme. We look forward to our continued involvement in 2017 as a part of our commitment to delivering positive community outcomes.
To find out more refer to the below press articles:
Statistics in low decile areas mirror developing countries, charity says
www.stuff.co.nz, 10 August 2016
Youth eye screening relevation
South Waikato News, 2 November 2016
Keeping an eye on students' vision
The Gisborne Herald, 28 November 2016
Mau Mohiti Initiative
Turanga FM-Media, 30 October 2016

Photo courtesy of Robert Steven of Stuff News.