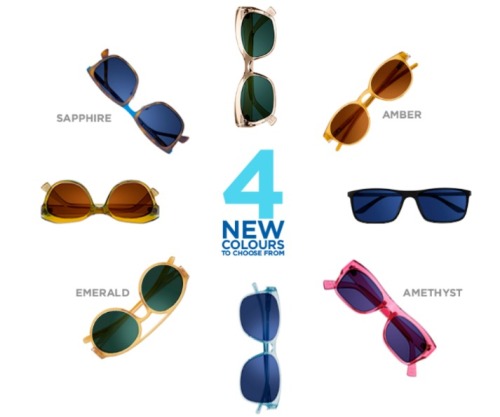 Transitions have shaken up their range by delivering a selection of fresh colour options that are now available at Gates. Amethyst, Emerald, Amber and Sapphire are now available in addition to the classic Grey, Brown and Graphite Green. Designed with the modern lifestyle in mind, they combine transition lens functionality with an added splash of personality that hasn't been available before. This makes Transitions ideal for those that are on the go and looking to add a custom touch of style to their eyeglasses.
These lenses offer added safety that normal lenses cannot. Due to the coating on Transitions there is protection from harmful lights rays found both indoor and out. This includes blue light rays emitted from the sun and digital device screens and 100% of UVA/UVB rays. To do this the lenses are highly responsive to light levels with a fast fade-back speed so you can move between surroundings seamlessly. They appear as a normal clear lens indoors and become increasingly dark as light levels increase outdoors.
Transitions are available as single vision and progressive lenses, and are suitable for any age including children. No matter what frame you choose at Gates, make them bespoke with your choice of Transitions lenses in one of the 7 fresh colours now available. And of course, if you don't absolutely love your Transition lenses we will change them to clear in 30 days, guaranteed.