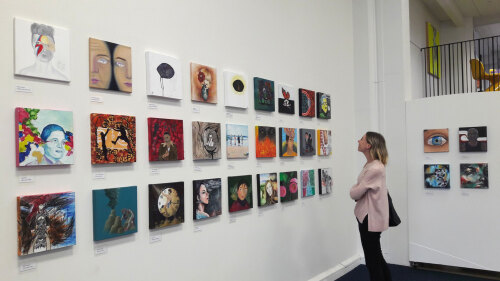 Paterson Burn Optometrists' 2017 Excellence in Art Competition is now open at Creative Waikato and the public can bid on the artworks and vote for their favourite on Facebook.
All 68 entries in the Art Competition will be on display at Creative Waikato at 131 Alexandra St, Hamilton, until Friday 5th May 2017.
The competition, which was launched by Paterson Burn Optometrists in 2013, was open to all Year 12 and 13 art students attending secondary schools or who are home schooled in the Waikato, Coromandel, and Auckland.
This year's theme is 'The world through the eyes of another – past, present, future'. Artists were asked to choose any person living, dead or fictional and tell a story through their eyes using paint and mixed media on canvas.
"We are delighted to see so many entries this year," said Paterson Burn Optometrists director Adrian Paterson.
"The calibre of work these young artists have produced is outstanding and I'm sure people will enjoy the exhibition immensely."
The public can bid on the artworks at www.patersonburn.co.nz/art. Students will receive 80 per cent of the sale and 20 per cent will be donated to Diabetes NZ Waikato.
The online auction closes on Wednesday, May 3 at 8pm. Any works that don't sell online will be auctioned off at the competition's awards presentation at Creative Waikato on Thursday, May 4.
The public can also vote for their favourite entry on Paterson Burn's Facebook page, www.facebook.com/PatersonBurnOptometrists. The entry with the most votes will receive a People's Choice award.
The entries are on display at Creative Waikato from April 12 until May 5. They will also be displayed at Paterson Burn Optometrist practices from May 8-12.
The following schools have entered the competition:
Auckland Grammar School
Auckland International College
Epsom Girls
Hamilton's Fraser High School
Hamilton Boys' High School
Hamilton Christian School
Hamilton Girls' High School
Hillcrest High School
Matamata College
Morrinsville College
Sacred Heart Girls College
Selwyn College
St Cuthbert's College
Te Aroha College
Te Awamutu College
Waikato Diocesan School for Girls
Waiuku College (first time entrant)
Whangamata Area School