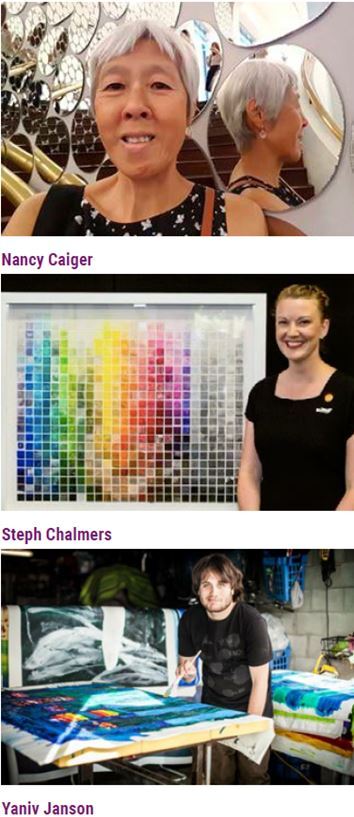 Three highly-respected Waikato art personalities will be joining this year's judging panel for the annual Paterson Burn Excellence in Art Competition.
MESH Sculpture Hamilton Chair Nancy Caiger, curator Steph Chalmers and award-winning artist Yaniv Janson have been announced as the judging panel for the annual Auckland and Waikato secondary school art competition, which is now in its fifth year. In 2016, 73 works were entered, with Hillcrest High School student, Joaquin Belisario taking the top prize.
Caiger - originally from Singapore - is a collector and artist in her own right, with her works found in public and private collections across France, Mexico, New Zealand, Australia, UK, USA, Canada, Singapore and Hong Kong. As Chair of MESH Sculpture Hamilton, she was pivotal in bringing celebrated New Zealand artist Michael Parekowhai's 'Tongue of the Dog' sculpture to the city, making Hamilton the first city in New Zealand to have a piece of public art by Parekowhai.
Caiger says it is important for young artists to be prepared to show their work in the public arena, 'art needs…an audience. Art has a purpose, which is to interest its audience, whether that interest be to shock or please.'
Steph Chalmers is the curator of the Calder & Lawson Gallery at the University of Waikato's Gallagher Academy of Performing Arts. She studied Fine Arts at the University of Otago under renowned printmaker Marilynn Webb.
'Art in New Zealand will have a bright future if we value it within our education system. A well-rounded education includes the arts in all its forms,' says Chalmers, who worked as an arts educator at the Natural History Museum in London, and is also a painting and drawing tutor, illustrator, exhibition preparator, 3D designer and picture framer. In 2016, Chalmers co-founded Framing House in Hamilton East with expert picture framer Emily Rumney. She has been involved in more than 170 exhibition projects over the last decade.
Raglan-based Yaniv Janson was the youngest artist invited into the New Zealand Academy of Fine Arts and the first Kiwi to be invited by the Paris-based Eg'Art -an organisation that implements the UN Conventions on Human Rights on Disability. This year, the 25-year old, who lives with autism and epilepsy, will be exhibiting his new series of artwork titled 'Please Do Touch', to be exhibited at UNESCO in October. His work 'Rich Middle Class and Poor' is currently exhibiting at Artspost in Hamilton.
Janson says that when judging the entries, he will take into consideration how long the artists would have spent on their art, the level of detail, the textures and what the subject matter is. 'Sometimes I look for the story to come through the artwork -but sometimes I can be drawn to a piece just from the way it looks.'
The competition was launched in 2013 by Adrian Paterson, founder of Paterson Burn Optometrists. 'We are thrilled with the high calibre of the judging panel,' says Paterson, ' their combined expertise and diverse experience within the art world will make their feedback all the more valuable to the young artists who enter.'
So what makes a piece of art good? Caiger posits the following from artist Martin Abrams:
'A great work of art must:
Operate on the level of a child as well as that of a philosopher
Embody its meaning and not merely illustrate it
Possess the same accuracy and efficiency of expression as a physicist's equation
Reveal an aspect of experience or reality that has always been present, yet has remained unexpressed
Enrich our appreciation of art's history, as well as point to its future.'
Entries are now open for the Paterson Burn Paterson Burn Excellence in Art Competition. To enter, please visit: www.patersonburn.co.nz/art. Entries close 31 March.