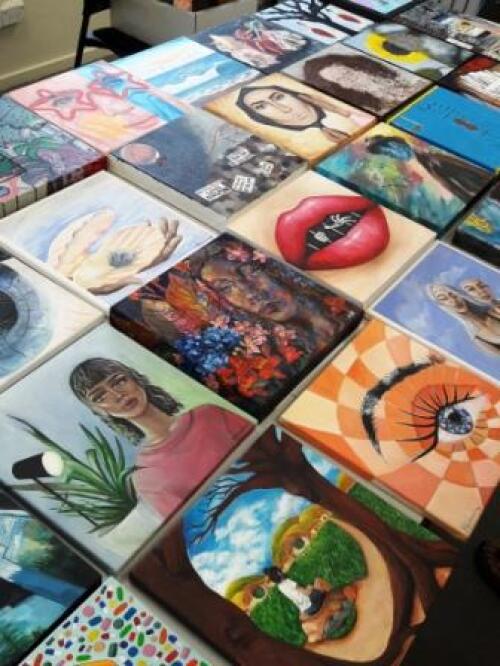 Artwork by students is set to go on display in a compelling exhibition at Creative Waikato where the public can bid on artwork, as well as vote for their favourite on Facebook.
All 62 entries are part of the Paterson Burn Optometrists' 2018 Excellence in Art Competition which was open to year 12 and 13 art students from the Waikato, Coromandel and Auckland.
The artworks will be on display at Paterson Burn Optometrists' practices from March 28 to April 4, before they head to the gallery of Creative Waikato at 131 Alexandra Street, Hamilton, from April 12 until May 3.
This year's competition theme is 'The art of deception – do my eyes deceive me'. The student artists were free to use their own interpretation of the theme, drawing from personal, local or international events as inspiration.
"The calibre of work these young artists have created is incredible and we are delighted to see so many entries this year," Paterson Burn Optometrists' director Adrian Paterson said.
"I'm sure people will really enjoy seeing the exhibition – the artwork is outstanding."
The public can bid on artwork from Wednesday, April 12 at www.patersonburn.co.nz/art. With the proceeds raised at auction, students will receive 80 per cent of the sale and 20 per cent will be donated to Diabetes NZ Waikato.
The online auction closes on May 2. Any artwork that doesn't sell online will then be auctioned at the competition's awards presentation held at Creative Waikato on Thursday, May 3.
The public can also vote for their favourite entry on Paterson Burn's Facebook page at www.facebook.com/PatersonBurnOptometrists from 28 March to 2 May. The entry with the most votes will receive the People's Choice award.
This year's judges are three highly respected Waikato art personalities, Craig McClure, Jennie De Groot and Carole Shepheard.
Craig McClure is a Scottish born, Hamilton-based artist and versatile creative, best known for his character infused, comic-like paintings that are influenced by science fiction, technology and overheard conversations.
In recent years, Craig's creative practice has merged into multiple roles – as arts advocate at Creative Waikato, a curator and an artist. His recent projects include the Boon Hamilton Street Art Festival, Human Era at Zeus gallery and multiple group shows between Hamilton, Tauranga and Auckland.
Jennie De Groot is a tutor at the Waikato Society of Arts and maintains a studio in Ngahinapouri. She is a contemporary landscape painter who creates images of unfamiliar places that feel familiar. Her landscapes describe emotional climates and are not about any geographical co- ordinates.
Dr Carole Shepheard is a former professor of Fine Arts at The University of Auckland. Carole has exhibited both nationally and internationally with work displayed at the Auckland Art Gallery, Waikato Museum and Te Papa, Wellington.
Carole was previously announced as a Commonwealth International Woman of the Year in 1991 for her services to art as well as an Officer of the New Zealand Order of Merit in 2002 and gained her Doctorate of Fine Arts in 2004.
From the judges' results, the first prize is $1,000 ($500 to the student and $500 to the school), second prize is $600 ($300 to the student and $300 to the school) and the third prize is $400 ($200 to the student and $200 to the school).
The 2017 Excellence in Art competition saw an amazing 68 art entries, participation from 18 schools from the Waikato, Coromandel and Auckland and 130 guests who attended the awards night.
Last year's theme was "The world through the eyes of another - past, present, future" which was depicted in various creative ways. Through the online bidding and the live auction at the awards night, a total of $2,465 was raised, of which 80 per cent was given back to the students and 20 per cent was donated to Diabetes NZ Waikato.